Project:
Redesigning N95 Respirators
Improving the comfort and adjustability of current respirators
Background
The N95 respirator is the most common of the seven types of particulate-filtering facepiece dust masks. Based on the working environment and purpose (especially after the outbreak of Covid 19 pandemic), N95 respirators usually need to be worn for a long time, which requests the comfortable use of straps and masks.
Problem
According to Amazon reviews, one-size-fits-all masks and straps cause discomfort. Thus, this project aimed to propose a new design of N95 respirators to improve the comfort and adjustability of current respirators and accommodate as many ANSUR II population as possible.
Solution
To design a more comfortable and adjustable respirator, this project first employed a within-subject experiment to measure related anthropometric variables and subjective ratings of participants on existing respirators. We then used regression analysis to calculate design parameters.
The design parameters include mask width, mask breadth, top headband length & adjustability, and bottom headband length & adjustability.
Research methods
Within-subject experiment

Regression analysis
My Role
Conducted the whole project with other team members

Research plan creation

Data collection

Data analysis

Report writing
Design parameters
Mask width​

Mask breadth​

Top headband length & adjustability​

Bottom headband length & adjustability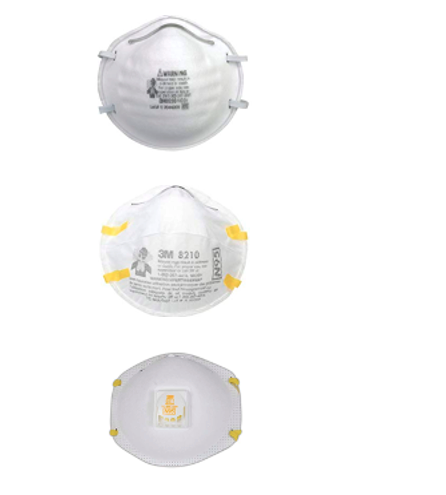 Method
Within-subject experiment:
Participants (8 females, 10 males)
Step 1. Measure 4 anthropometric variables

Step 2. Ask participants to wear 3 types of masks and measure their preferred headband length

Step 3. Each participant performs three tasks wearing each mask: normal breathing, deep breathing, turning head

Step 4. Each participant completes a questionnaire asking comfort level of each mask
Statistical analysis
Two parts: Headband length and Mask shell dimensions

1.Headband length (& adjustability):

Fit regression models of:

Top headband length <-- Head circumference + BMI

Bottom headband length <-- Neck circumference + BMI

2.Mask shell dimensions:

Fit a regression model of the subject's comfort score to determine the significantly influential factors of comfort

Calculate the sensitivity of each individual based on comfort scores

Use bivariate accommodation to design masks with 3 different sizes
Results
Designed the different top band and bottom band for males and females separately based on linear regression models

Designed three different sizes for the mask's width and length (unisex design)
Thank you for reading my project!
Feel free to contact me!
...or just say hello on my social media.