Research Project:
Designing a Slackbot "WeAre!" for Online Education
Exploring the notion of community to promote community with peer knowledge in the online educational setting
Background
Differing from residential students, distance learners are separated from their peers both physically and temporally. Social integration is essential for students' satisfaction, retention, and learning outcomes, but is a particular challenge for online education, where social cues are often absent. The discrepancy leads to a series of critical issues for the online education environment, such as high dropout rates, and students' feelings of isolation.
Problem
Motivated to address the challenges brought by remote education, this project explored how to promote online community with peer knowledge in the online educational setting, aka how to design an online educational platform as a place for online students to practice community beyond their instructional boundaries.
Solution
We designed a Slackbot "WeAre!" to help Penn State World Campus students communicate and interact with each other. To measure the user experience with the platform, we also used pre- and post-surveys.
Research methods
Prototyping

Log analysis

Pre- and post-surveys
My Role
Literature review

Data analysis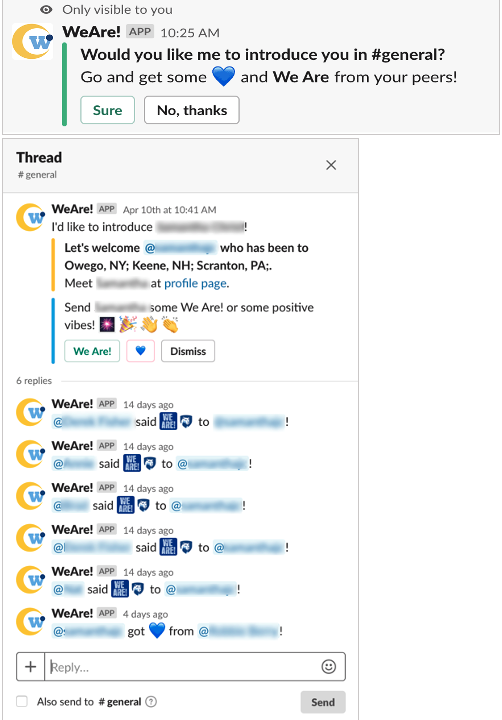 Design of the Slackbot "WeAre!"
Designed a Slackbot "WeAre!" to help Penn State World Campus students communicate and interact with each other

An interactive Slack command and a custom button: can be used to initiate an introduction form. The form is presented as a modal dialog within Slack

Once a user submits the introduction form, Slackbot WeAre! sends a private message to the user in the current channel, encouraging the user to authorize Slackbot WeAre! to post a public message in this channel that will introduce him or herself

If a user agrees to be introduced, Slackbot WeAre! sends a public message visible to all members of the channels. Further, students can follow up with one another in text or with emoji under this introduction also as replies. In addition to using /intro slack command to initiate the process, we sent out prompts on behalf of Slackbot WeAre! for users to introduce themselves every other day only if new users have not introduced themselves and also have never received such prompts (in other words, each user got such prompt once at most)

Further, WeAre! guides users through the steps of being publicly introduced by the Slackbot, so as to share the information the user just entered with fellow students. We also sent prompts to invite students to join or create channels of their majors or interest groups (also for once at most)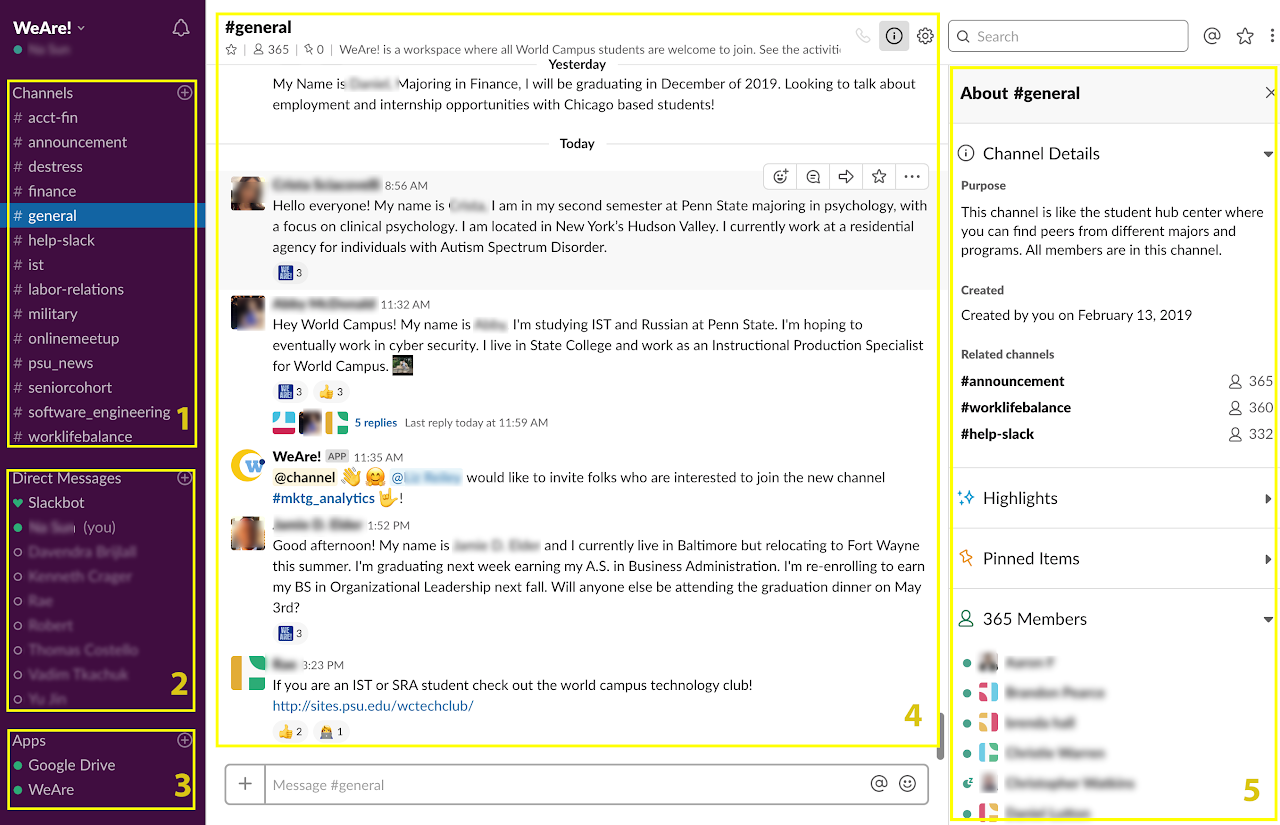 Data analysis
Users' log:
409 students registered in WeAre!

38 channels created

Messages (n = 830 messages)
Repeated Measures (Pre- and Post-Survey):
n = 49 students who participated in both surveys and used WeAre!

n = 72 students who did not register in WeAre! but participated in both surveys
Coding and thematic analysis
Key takeaways
World Campus students' activities and reported experiences of WeAre! demonstrated the ability of Slackbot in breaking the ice and facilitating peer interaction (e.g. facilitated introduction). However, carefully designed bot-facilitated dialogues also raise questions about the authenticity of social interaction

Perceived community via Common Bonds (i.e. Affinity-based Community) are significantly higher than those via Common Identity in the context of online education programs

WeAre! enabled World Campus students to actively seek and foster relationships with their peers and also increased their community feelings about their collective efficacy in coordination and social support
Impact of this project
Our project demonstrates that it is important to foster online communities for online learners

409 students registered in "WeAre!". This showcases the potential of slack bot to help facilitate peer interaction
Thank you for reading my project!
Feel free to contact me!
...or just say hello on my social media.